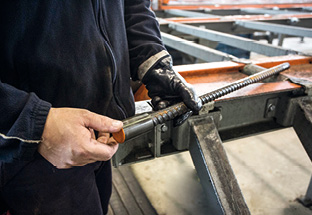 One of the solutions used to join two bars involves using mechanical joints with couplers. These mechanical joints can therefore be used instead of traditional methods such as overlapping bars or welding them together.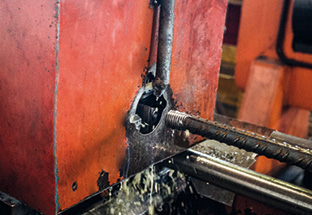 Connection using mechanical joints is practical for realising particularly complex plants where the design specifies casting interruptions between construction phases. Its area of use include the construction of large structures such as piles, bridges, viaducts, beams, chimneys with continuous casting cycles etc. Despite the added cost, compared with the conventional bar overlapping, this solution is more cost-effective because it enables a reduction in the cost of temporary works and formwork, and optimises the use of lifting equipment.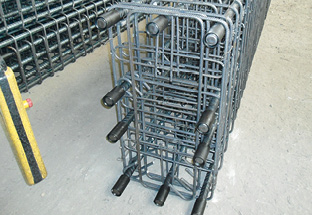 Furthermore, is no smaller matter that, by using mechanical joints, the risk of non complying with the standards of steel/concrete ratio contained in many laws of the Countries of destination, is eliminated, facilitating work planning activities. Always considering the designing phase mechanical joints enable to design and build reinforced concrete structures that not only meet but also exceed the strictest requirements that characterise standards and legislation for constructions in seismic areas.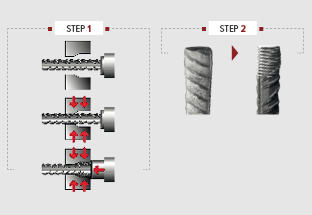 Implementation Process
PHASE 1 - Cold expansion of bar diameters using a press.
PHASE 2 - Threading of the expanded bar using a special threading machine. This procedure brings the diameter back to its original size, ensuring the consistency of the reinforcement section.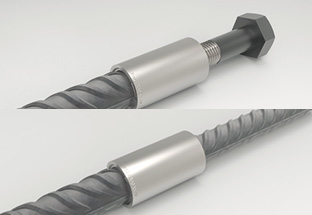 Possible applications of the mechanical joint system: using a diameter reduction or using nuts and bolts.
 
Possible applications of the mechanical joint system in combination with structural steelwork elements using couplers that can be welded.